Service Hotline
0800 7711 9911

00800 7711 9911
Mo-Fr 09:00 - 18:00 Uhr
info@speakers-excellence.de
Enquiry
Profile download (PDF)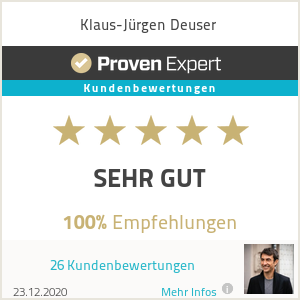 Klaus-Jürgen Deuser
"That's how you change perspectives"
Klaus-Jürgen "Knacki" Deuser, the founder of "NightWash," which he built as a springboard for a whole generation of German comedians, is one of the pioneers of the German comedy scene. The former top athlete and business administration graduate has evolved over the years from well-known presenter and producer himself to one of the most interesting German stand-up comedians and keynote speakers. Alongside his stage career, he built a subsidiary as the manager responsible for live performances upon the request of Brainpool (Stefan Raab) from 2008 to 2013. Since 2013, he has co-founded 3 other companies that specialise in stage production, tourism and youth development. In his lectures, he advocates a new levity of courage. With an enormous amount of knowledge and wit, he provides examples and tips on how you can approach life and projects fearlessly, courageously and ultimately successfully, as well as how to use humour perfectly for any form of change and development.
Using examples from behavioural psychology, his world of entertainment and humour, Klaus-Jürgen Deuser explains how to view and evaluate events and processes in a new way. With lots of humour, he explains how to initiate and train necessary creative processes.
Think different – get to number 1 through uniqueness
Nothing new without change – why change without change won't work
How you can become aware of your uniqueness and form it into a USP
How you can make your message into a "story", communicate it with emotions and attract people
No pain, no gain – Success has nothing to do with chance
Nobody is born a star – how to develop your skills, travel your own path and become a personality
How to use mistakes as a source for new ideas, recognise new paths and solve problems
How to use the marathon principle to overcome defeat and actively design your sustainable success
He who doesn't change will fall by the wayside – thinking differently, acting boldly, new perspectives
How to recognise mental traps and avoid them in the future
Content is king and the mission is queen
From reflection to action – how you can foster a culture of courageous action, create a climate of openness and allow for the "new"
His co-developed formats: the ZDF Neo Comedy Lab, the 1Live Hörsaal-Comedy, the SWR3 Spasskantine, WDR2 Pistor football school and the German stand-up festival.
Deuser has won multiple awards – 1995: 1st prize of Koblenz Children's Theatre Festival – 2001: "Arsch mit Ohren" (ass with ears) (Honorary Prize of Koblenz Jugglers Festival) – 2003: Lindener sPEZiALIST – 2010: 1st place of the Schwelmer Cabaret Prize – 2010: Honorary Award at the Bremen Comedy Club – 2011: 1st prize of Tuttlingen Krähe – 2012 2015: Honorary Award of the German stand-up festivals.
"Serious humour for once – great!"
"How true – one can always use such food for thought."
Iqnite-Conferenz 2016 (Ø: 1.54)
"The T-Mobile and Motorola executive members were deeply impressed of your understanding of today's mobile world. Even one particular guest came up to me and said: 'Wow! This guy describes my life better than I do'." T-Mobile Sales Campaign Management